President, Industry Expert
443-821-3829 / andrea@shorelinedestinations.com
Andrea has always had a passion for travel & experiencing places outside of her home base of Maryland. After a career in the Telecom industry, she started with a travel agency in 2013 which provided the guidance and training to get her started in the travel field. Andrea decided to go out on her own in order to establish a name for herself and her company, Shoreline Destinations. Andrea has planned an extensive amount of trips over the years between Maldives, Dubai, Fiji, Alaska & Hawaii; she does a bit of everything! So whether it is a Honeymoon in the Caribbean or a River Cruise in Europe, Andrea prides herself on treating each vacation as if it is her own. With multiple designations under her belt and key relationships established within the travel industry, she is excited to see what the future holds for the company.
Andrea is a member of the American Society of Travel Advisors and a member of the Destination Wedding & Honeymoon Specialists Association.
Industry Expert, Wedding Planner
heather.shorelinedestinations@gmail.com
Heather has held positions in the travel industry for many years including working for a large cruise wholesaler and also a land-based tour operator. Heather joined Shoreline Destinations as an Independent Consultant in 2017 while also helping brides as a wedding coordinator.
Not only can Heather assist with helping brides plan their wedding (whether in the States or abroad), but she can help plan the honeymoon too. It's a win-win for brides because Heather is involved from the time the wedding planning begins until the Honeymoon. It's a seamless transition with Heather through the whole process. Heather has also worked on countless trips for others and her years in the industry allows her to tailor the right trip to the client. Whether it is a honeymoon, destination wedding or family trip, Heather will provide the guidance to make it perfect!
Indian Destination Weddings, Family Travel
410-861-8639 / anjli@shorelinedestinations.com
Anjli left a rewarding career in education after 24 years. During those summer months, she traveled extensively with her family & friends throughout the Caribbean as well as parts of Mexico, Europe and Asia.
Anjli decided to take her passion for seeing the world and become a travel consultant with Shoreline Destinations. She can share her personal experiences and provide valuable insight to creating the perfect vacation. Anjli is bilingual in both English and Gujarati. Her strong organizational skills and love of working with people makes her the perfect person to plan your next vacation or destination wedding.... whether it's a party for 2 or 200!
Disney, Universal, Cruises, Caribbean, and Mexico Travel
443-821-3815 / jo.shorelinedestinations@gmail.com
Jo has always loved to travel but has a special place in her heart for all things Disney. Jo is dedicated to staying up to date on the ever changing information relevant to planning the best trips possible. She believes a well planned trip to Disney can be one of the most special times for a family. Jo can handle all of the arrangements for you so your only job is to enjoy and make memories! Disney planning & advise is complimentary when making a Walt Disney World Vacation Package reservation through Shoreline Destinations. Each Disney Vacation is unique and Jo will ensure your package is the right fit for your family!
Jo also works on travel packages to the Caribbean and Mexico. She loves helping plan memorable trips to paradise and has some favorite properties to recommend to you. So whether a cruise or resort, Jo is committed to finding the right fit for your travel needs. From Disney to the Dominican Republic, she's ready to help make your vacation dreams into a reality!
Jo is CATP certified. She's available to advise on the best properties that work with families on specialized needs.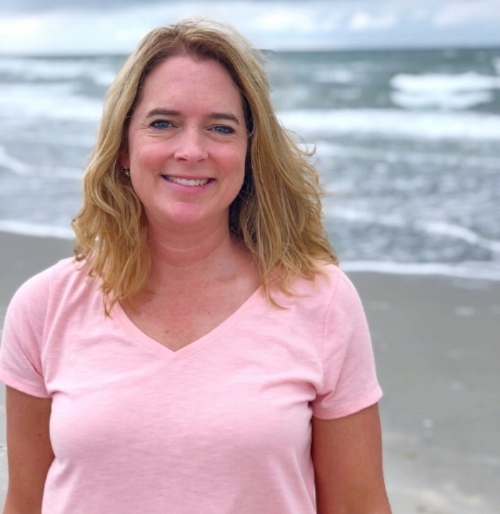 Caribbean, Mexico & Cruise Travel
sandy.shorelinedestinations@gmail.com
After more than 20 years of being an RN and working in various nursing fields, Sandy has chosen to branch out to a very different, but equally rewarding profession as a Travel Consultant. She has a passion for travel and all aspects of trip planning, along with a desire to personally visit as many places as possible. She is excited to help you plan your dream trip to the beautiful Caribbean or on a fabulous Cruise, whether it be a honeymoon, family vacation, couple's escape or a girls getaway.
Disney and Universal Travel
laura@shorelinedestinations.com
It was all started by…Tweedledee and Tweedledum. When 5-year-old Laura met them in the Magic Kingdom in Disney World, she knew she had found her happy place and been entranced by the travel bug. As a teen in Disney, Laura was granted the freedom to explore the World via monorail. (Yes!) After college, Laura had the privilege of touring the Disney Parks with a Cast Member friend and appreciating the dedication of the Cast to providing an unforgettable vacation for each and every guest.
Since 2010, Laura has been visiting Disney and Universal Studios with her own children. For a parent, the parks' attention to every detail allows families the space for relaxation, quality time, and magic to fuel our imaginations, fill our hearts, and create life-long memories.
Vacations to Las Vegas and Mexico round out Laura's favorite travel spots. Laura's own attention to detail and personal travel experience ensure her clients receive thoughtful care and ultimate planning! There are so many ways to vacation. Together, let's find your way. The Magic begins today!
Marketing Manager / Client Liaison
ellen@shorelinedestinations.com
Ellen has more than 15 years of Marketing experience and has always been passionate about travel and discovering different cultures. She has traveled extensively throughout Europe, the Caribbean, Mexico, and the United States. When Ellen isn't traveling, she's dreaming about where she'll go to next!
Ellen decided to follow her passion for travel and joined Shoreline Destinations in 2019. Whether you're planning a trip to an all-inclusive resort, a cruise, or a destination wedding, Ellen will be helping our team make it happen.